Wholesale Magnolia 'Teddy Bear' Plants
Magnolia 'Teddy Bear' growth rate, care and Hedging uses
Magnol ia Grandiflora Teddy Bear is a new evergreen magnolia that requires a sunny position and a well drained soil that also does well in pots and containers. With wonderful foliage this magnolia could also make a great foliage plant. An excellent hedging plant with a moderate growth rate that will be quicker in warmer climates than in cooler areas.
Growth and Height

Magnolia 'Teddy Bear' is smaller growing than 'Kay Paris' and again fantastic foliage, but different to others in that the dark green leaves are rounded and cup shaped and quite densely held. (Magnolia Teddy Bear Foliage Pictured Right)

Teddy Bear will still grow to 6m, however like both 'Little Gem' and 'Kay Paris' if pruned in winter it can easily be kept more compact. Large white flowers to almost 20cm.

We list Wholesale Magnolia 'Teddy Bear' growers, supplying quality >plants for landscaping and commercial use as well as supplying retail garden centres for New South Wales (NSW), Victoria (VIC), Queensland (QLD), South Australia (SA), Tasmania (TAS), Western Australia (WA). The Northern Territory (NT) and the ACT.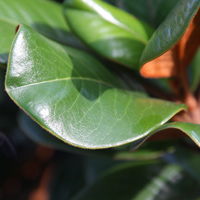 Magnolia Teddy Bear Foliage