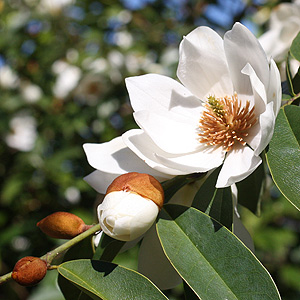 Magnolia Starbright
A new hybrid with large open white flowers, Magnolia Starbright is one of the best evergreen magnolias for hedging.
Fast growing with a fairly open habit at first is will natuarlly develop a bushy habit over time. One of qualities that makes this a better hedging plant than some others is the easy to prune nature.
Along with smaller foliage than the grandiflora types and larger flowers than the yunanensis varieties, Magnolia Starbright flowers along the stems in spring with masses of attractive flowers.
For an informal yet easy to prune hedge, Magnolia Starbright is on of the best new cultivars available.
Care
Humus rich moist but well drained soil.
Prune after flowering to create a bushy habit.
Mulch around plants to maintain a cool root run
Plant 1m apart for a good dense hedge
Fertilize in spring with a slow release type fertilizer.