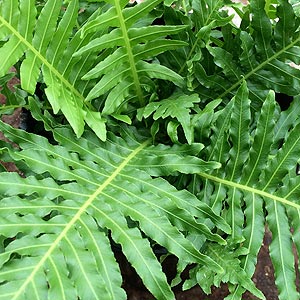 Blechnum gibbum 'Silver Lady' - Wholesale
Blechnum gibbum 'Silver lady' is an excellent plant for low light situations. Used in mass planting in shaded positions by landscapers and well as in shaded positions in the general garden border.
Commonly refered to as the 'Dwarf Tree Fern', Blechnum gibbum 'Silver lady' is also at home as an indoor plant. When grown indoors ensure good air circuolation and keep away from heating ducts.
Eventual spread can be up to 1m so a little space is required to allow it show off its foliage to the fullest.
General Care
Landscapers should ensure a humus rich soil, moisture retentive and dappled shade. Good drainage is essentail both in the ground and in containers to prevent root diseases. Mulch well and consider a drip irrigation system.
Little care is required, although old fronds can be removed to tidy up the plant as is required.
Nurseries should keep plants moist and in a filtered light situation.