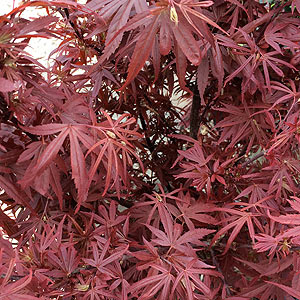 Acer palmatum 'Shaina' - Wholesale
With crimson red foliage and dark stems Acer palmatum 'Shain a' is a Japanese Maple with a naturally dwarf habit. Reaching around 2m to 3m in height with a similar spread it forma nice rounded tree.
Grafted standards are also available from selected wholesale nurseries, so choose when selecting. Small flower in spring are insignificant as the plant is grown for the foliage. Excellent autumn colour make this a useful plant in many landscaping plans.
Care
This is a slow growing tree and grows best in a humus rich moist soil with shelter from hot winds. Once established it requires very little care and only remedial pruning of damaged growth.